This post has been compensated by Collective Bias, Inc and its advertiser. All opinions are completely mine alone.  #SavorHolidayFlavors  #CollectiveBias
Several weeks ago while out and about, I noticed an older gentleman sitting on his porch, sipping from a mug merely watching the cars go by. Something about the calmness and slowed down pace of seeing him, sitting there, enjoying the comfort from his cup inspired me to do the same. But rather than sitting by myself and rather than hosting a regular ole happy hour, I elected to host what I'm calling a Front Porch Holiday Happy Hour.
Perhaps I've read a few too many Turquoise Table tales, where the woman paints a picnic table turquoise, puts it out into her front yard and encourages conversations with neighbors but I wondered what would happen if instead of a turquoise table, I plopped my coffee maker out onto my front porch for my comfort hour while channeling the man watching the cars go by and sipping something of my own.
Would anyone talk to me? Wonder what the heck I was doing with my coffee machine on my front porch? Would I convince anyone to take me up on my offer to share a warm cup of coffee while relaxing for a moment before what is sure to be a hectic holiday season?
During my "Front Porch Holiday Happy Hour", I learned a lot of things. After 3 years of having built our home in this neighborhood, I learned that the man who lives in front of our neighborhood (but not technically in the neighborhood) knows my name, and has a black lab named Diesel and is raising his grandson. A grandson who spotted my shiny red Keurig and exclaimed "is that hot chocolate?! I love hot chocolate".
I learned that the house recently put on the market a couple of streets over is due to the owner being transferred to a job in Texas. I learned that our HOA Christmas party will be held at the recreation center and while family friendly this year, also means alcohol will not be served. And finally, I learned that sometimes all someone needs is an invitation to share a cup of coffee combined with a friendly hello to completely turn their mood around.
I can think of no better time to get outside of the comfort of our homes and extend those invitations and warm hellos than during the holidays. It is truly the season of sharing, and it can be as simple as rolling out your coffee maker and sharing stories with someone in your neighborhood. You just never know the friendships that develop over a cup of coffee and taking just 10 minutes for yourself.
I served the Starbucks® Peppermint Mocha Caffè Latte K-Cups® the day I held my little Front Porch Holiday Happy/Comfort Hour experiment. It's a seasonal flavor I spotted on the end cap at my local Walmart, and when the video screen said "Choose Your Favorites", I decided my favorite was the combination of mint and mocha.
Ready for a Bonus Stars offer?
Purchase three (3) qualifying Starbucks®packaged coffee (10-20oz.), Starbucks® K-Cup® packs (9-32ct.), VIA® Instant (5-8ct.), Starbucks® Syrups (12.17oz.), or Starbucks® Cookie Straw packs (9.17oz.) products in a single transaction at Walmart stores from 11/1/17 through 12/26/17 and receive 75 bonus stars when you upload your receipt at Starbucks-stars.com.
The Starbucks® Peppermint Mocha Caffè Latte K-Cups® are a 2-step process. Each box contains both the Peppermint Mocha powder and well as the Cafe Blend. It is the perfect combination of holiday comfort in a cup and just enough peppermint-y goodness to remind you of the holiday season!
You'll need to stir it all together once it has completed brewing….making these DIY Hot Chocolate Stir Sticks come in super handy. You can find the tutorial for them here.
(Hover over the below image to shop directly from this post!)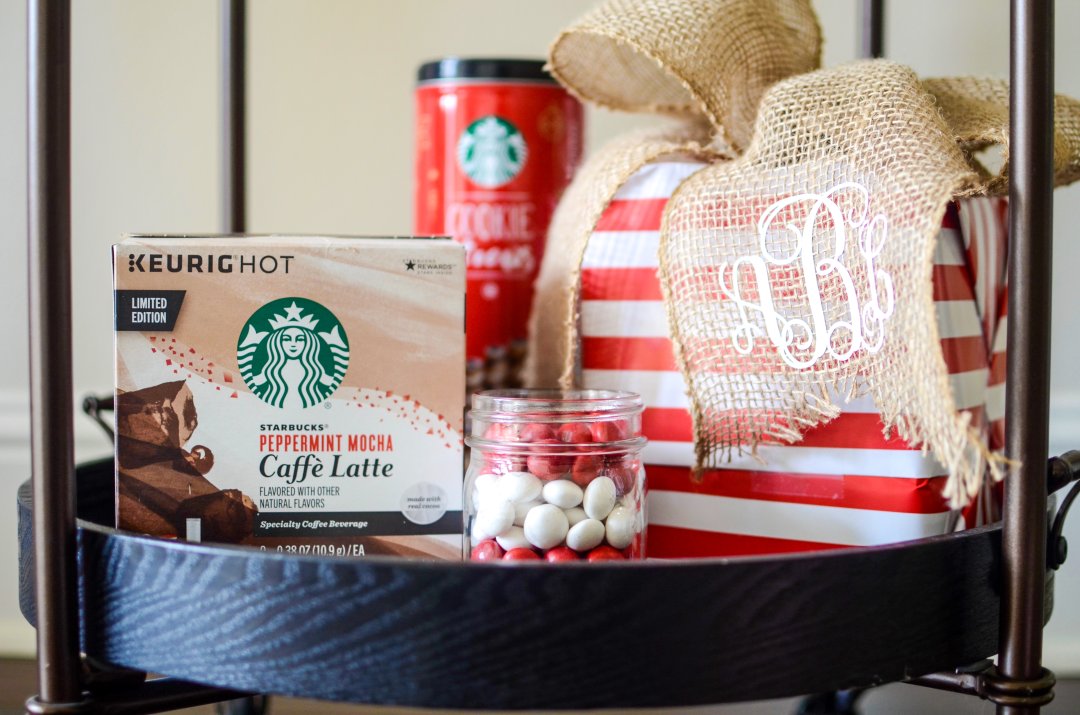 However you choose to savor the season, I hope you'll join me in finding some unexpected moments of comfort and joy while getting together with those you love. Even if it's simply heading out onto your porch.